I am a landscape photographer and I love printing my photos. For me the print is the realization of all the effort I have put into capturing the image. It is something tangible that you can hold in your hands and admire.
I also love shooting with phones. Photography for me is a way of connecting to nature and capturing the feeling I have when exploring amazing locations. A phone creates less of a barrier to capturing that moment.
But what happens when you take a photo with a modern phone like an iPhone 11 Pro and then print it really big? I wondered and decided to give it a go.
As part of being a professional landscape photographer, I have a Canon imagePROGRAF PRO-2100 large format printer that prints image 24 inches (~61cm) on the short edge and as long as you want on the long edge. I have always had a rule of thumb that 240 PPI is required when printing an image to get something that look sharp when inspected more closely.
So based on this and an iPhone 11 Pro 12MP camera the long edge is 4000px. That makes the largest print possible to keep the 240 PPI rule around 16 inches (~40.5cm). I wanted to print 30-40 inches (76-102cm), so I would have to accept that it will be printed at 120 PPI or less. But how bad would that look?
I first started with a series of A2 prints (around 24×16") and they looked amazing.
In this you can see how well the printed iPhone image maintains the tonal range:
I was impressed with the graduation in the sky and detail you can see in the close up:
Then I decided to go for it and luckily had taken an image with my Nikon Z7 and iPhone 11 Pro.
The results blew my mind! Of course if you looked close then you could immediately tell the difference. The Z7 is better, no doubt about it. But the difference isn't huge.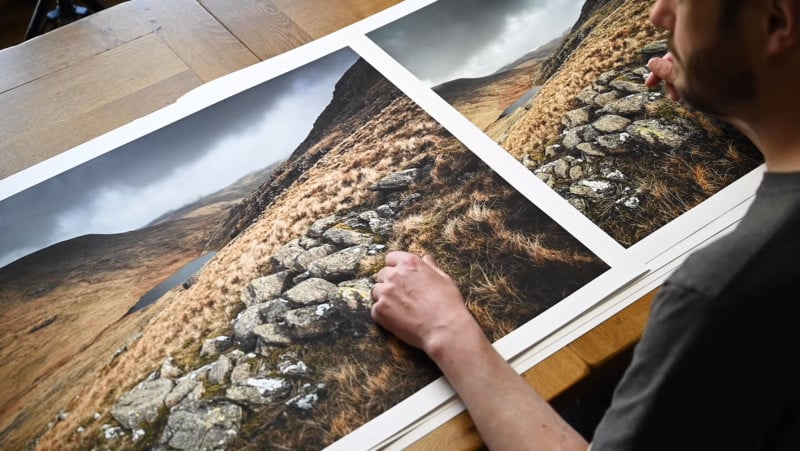 Hard to believe this print was taken with an iPhone:
A close up of the central part of the print:
I printed the photos on Fotospeed NST Bright White 315gsm paper with a Canon Pro 2100.
The main differences are obviously the detail in the rocks and grass but also the noticeable lack of sharpness in the iPhone print at the edges. It was shot with the super wide lens. However, the iPhone print looks great and from 6.5 feet (2m) away it was hard to tell the difference.
---
P.S. If you enjoyed this video and article, you can find more by subscribing to my YouTube channel.
---
About the author: Nigel Danson is a landscape photographer based in the UK. The opinions expressed in this article are solely those of the author. You can find more of Danson's work on his website, Facebook, Twitter, and Instagram.